This post was written by a EasyFinance.com Community member. The views expressed below may not reflect the views of EasyFinance.com.
Advantages and Disadvantages of Using an Architect When Building Your Own Home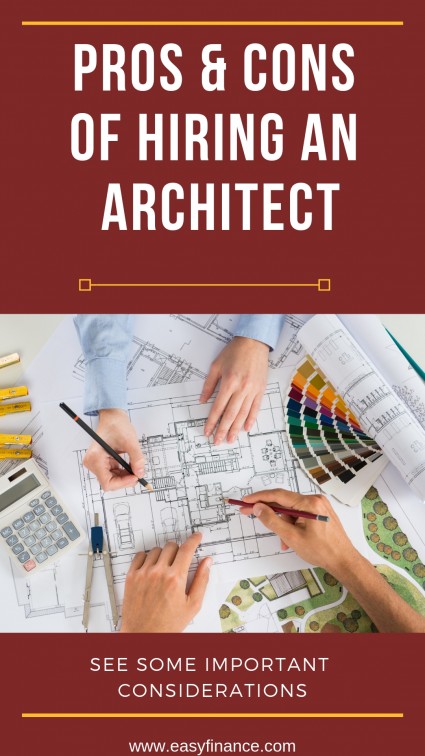 Are you planning a self-build? Building your own home has become more popular in recent years. Architect firms seem to be springing up almost anywhere, and there are many advantages to constructing your own family home.
Surprisingly, it may cost a lot less than you may have thought. At the same time, you need to be aware that you may have to finance more of the project out of your own pocket. Hiring an architect is one of the first things you should do when you consider building your own home.
When it comes to house plans, there are many things you need to think through. For instance, local and nationals regulations have to be followed, and on top of that, an architect might need to be aware of environmental regulations as well.
What are The Pros of Hiring an Architect?
Is hiring an architect a good investment? Yes, it is, and many lenders will not lend money to your project if you don't have architectural drawings. The pros of building your own home are many. You are much more likely to live in a self-build house for a more extended period.
It will also be designed with your own personal needs in mind, and you can make it as energy efficient as you would like. These are only two of the significant advantages of building your own place.
When you hire an architect, you're also investing in someone who has knowledge of building codes, as well as a tactician when it comes to wall placement, and what works from a day to day living standpoint. In other words, the drawings are not going to be piecemeal together with no direction. They will work structurally and aesthetically without a hitch.
What Are the Cons of Hiring an Architect?
Custom building and designing plan with an architect can be expensive, and it will take longer than buying a builders model home. But, if you are smart about it, and work together with your architect, you can reduce long term living costs in your new house.
An architect can give you the best advice on what materials to use and how you can future proof your home. He or she will also be able to oversee the project and recommend local builders with an exceptional reputation for building finely crafted homes.
You may think you can handle much of the technical work yourself, but unless you own a building company, it is not likely you are going to be able to handle a large house construction project.
What Are the Most Important Things to Keep in Mind?
The house plans are the most important thing to bear in mind. They are, in fact, the blueprint for your living conditions for an extended period of time. It is worth spending an extended period getting them right. This will save you money in the long run. A good architect will pay attention to the following details;
Your personal needs
Local and environmental regulations
Materials - this is very important
Construction plan and schedule
Costs - the best way to control costs is to hire an architect. Most self-builds without an architect never come in on budget.
Hiring an architect to help you with your house plans from the start is always the best idea. Bringing in an architect after you have started a home build will cost more money as alterations will often have to be made.
More to Architects Than Just House Plans
There are more to architect than house plans. Some professional architects will help you with bidding when it comes to choosing the right building contractor for your home. At the very least they will probably supply you with names of reputable local builders.
Lots of architects will be hired independently by builders to prepare building plans for their ongoing projects. Building a home means that you need to bring many different trades together. That is not an easy thing to do, and if you have no experience, you are soon going to find yourself out of your element. Here are a set of questions to ask a builder before you construct a new home. These are excellent things to ask as you'll get a feel for how the builder likes to do things.
Timing is Important
Time is another critical factor. Your home will be built in stages and during each stage specialist contractors will need to be brought in. When you don't have any professional experience, it is next to impossible to get the timing right. Also, who checks each stage of the project and makes sure it meets the specifications of the designs and the regulations? That is the job of an architect, and you do need a pro to do deal with any problems should they arise.
Making sure a contractor sticks to the design, budget, and time scale is another important task that could potentially fall on the plate of an architect. Most homeowners who have built their own house with the help of an architect are happy. Let your architect inspire you, and you will be pleasantly surprised by what you can achieve when you work together.
Final thoughts
Working with a professional architect is a smart move, especially when you are building a luxury home with intricate details. For a smaller design, an architect may not be needed as there are plenty of excellent stock plans that can be modified. Quite often builders can make minor modifications right in the field without ever needing custom architectural drawings.
Other Excellent Real Estate Articles Worth Reading
Use the above resources to make better decisions when you are buying or selling real estate.
About Bill Gassett: Bill Gassett has been one of the top RE/MAX Real Estate agents in New England over the last decade plus. He is the owner of Maximum Real Estate Exposure, one of the most read real estate blogs in the country. At Maximum Real Estate Exposure you can find expert advice on numerous topics surrounding buying and seller a home, mortgages, finance, home improvement and more.