This post was written by a EasyFinance.com Community member. The views expressed below may not reflect the views of EasyFinance.com.
Are you thinking of purchasing an oceanfront property? This can be truly a rewarding type of property to own. Along with a myriad variety of health benefits including the fresh air you can breathe in this area and access to prolific physical activities, this can also elevate your pride because of the certain charm that the houses on the oceanfront have. One of the best places to purchase such a real estate property is Maine. It has many islands, bays, and peninsulas which makes it a spectacular area for waterfront properties. And therefore, needless to say, there are plenty of people who aspire to owning such a property.


This brings us to the greater question of how you will choose the right oceanfront home in Maine. If you don't currently have a waterfront property and have no knowledge about the oceanfront properties, then it is possible that you could make a few mistakes. And making a wrong choice in your real estate property can be terrible mistake because there may be no way to step back from your decision once you have purchased it..

So, here, we have put together a few mistakes you should avoid while choosing an oceanfront home in Maine. Take a look.

1.Not Knowing the Exact Location

You should not decide to buy the property unless you are aware of its exact location. So, one needs to ascertain the exact boundaries of the property. Moreover, there are other aspects of the property like the sewer lines, soil type, flood-risks, and other such aspects which can be better understood if you know where the house is positioned on the parcel. So, check the town offices for maps that outline the size and location of all properties and consult a local real estate brokerage company who can further guide you in choosing a property suitable for your budget and requirements.

2.Not Checking the Usable Sections of the Property

When buying an oceanfront property, there may be certain sections which might not be usable. There are state shoreland zoning and local waterfront ordinances, deed restrictions, town zoning, and other covenants, restrictions, and conditions that you need to keep in mind when you buy a property. There are limitations on how much land can be used within a certain distance of the waterfront and the building setbacks, minimum lot standards, height coverage, erosion controls, vegetation clearance, parking areas, and so on. Sometimes, the property can have further restrictions on mobile homes or home occupations, etc. If you don't take note of these carefully, it might have an impact on your proposed use.

3.Forgetting to Inspect Your Access Issues

A waterfront property can be slightly different from that of a inland property. So, you need to be careful about inspecting your road and water access. You should remember to check on the existing road to access the house and whether the road is a private, public, shared one, or just a Right of Way. If the road is a remote one, you need to check if there is a Road Maintenance Agreement and how much fee is charged for it. Similarly, you need to know if the waterfront is owned, shared or have a Right of Way access. You might have invested in this property for the waterfront access, but if you may not have the permission to use it. You should know the kinds of water sports or activities that are allowed on the body of water or whether you can construct a permanent dock, or a seasonal floating dock. Don't forget to check the permits required for any development plans that you have in mind before you decide to invest in the property.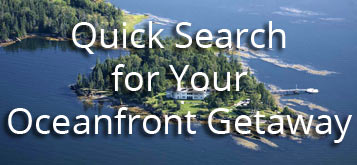 So, before you start looking for Maine's oceanfront real estate for sale, find the right real estate brokerage company with experienced and knowledgeable agents who can save you from making such mistakes.
About Jane Wang: Jane, a regular blogger on real estate properties, here writes on the top 3 mistakes one should avoid while choosing the Maine oceanfront real estate for sale.